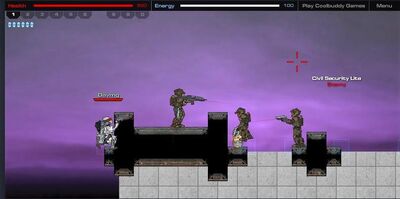 In the Plazma Burst 2
Campaign
, there are a total of 42 levels. Almost each level always consists of enemies, props, and weapons. However, they can range from an outside environment, to a building full of
Civil Security
troops,
Usurpation Forces
, and levels that have no enemies whatsoever. Each level is unique to one another, whether it be a different faction to fight, or a different map layout.
List of Levels
Plazma Burst: Forward to the Past
Plazma Burst 2
Multiplayer Levels
There are maps created by Eric Gurt based on the Levels of campaign. There are only 2 levels in Multiplayer made by Eric Gurt yet.
Trivia
In PB:FttP, there are only 16 levels total.
Each level icon/number on the campaign main screen in PB2 is color-coded. The blue numbers are solo Marine levels, the yellow numbers are Usurpation base levels (also solo Marine levels), the violet/pink numbers are Proxy solo levels, the orange numbers are levels with multiple main protagonists (Marine, Noir Lime, Proxy), and the green number is the final Android level.
Many open levels, such as 1, 16 and 24, can be finished very quickly with a BNG/rocket-jump from where you spawn to the end of the level, flying through the whole level at a high speed. However, it's likely that you will need to combine a number of weapons in order to fly far enough, which is unlikely to be possible the first time you play a level, as sometimes you wouldn't have enough weapons.